Let me take you back to the occasion of my mothers' 40th birthday party–
Now obviously, your 40th birthday is a big occasion and (while I haven't experienced it yet) it's considered a milestone like any year where you turn another decade older. So for Mum's 40th she'd organised a medieval themed birthday party, complete with a spit-roast in the backyard, horseback rides and (best of all): a jumping castle
It was that last one I looked forward to the most. Having a fairground attraction in your own backyard for a day seems like the most awesome thing ever when you're 9 years old, the only thing better would be discovering they were taking apart The Demon from Wonderland and coming to set it up at your place (but then again maybe not, as I was scared of rollercoasters as a kid and I regret the rides I missed out on, but that's another story)…
So the weeks counted down and then at last, here it was: the day of Mum's 40th birthday party…
The caterers arrived and set up the spit roast, the horse float showed up and a white horse clopped through our side gate and into the backyard, family and friends came around to our place dressed like the cast from a Robin Hood movie- while I eagerly waited for the jumping castle, which would arrive at any moment, surely…
I waited…
And waited…
The afternoon drew on and still no sign of any jumping castle. By this stage even my parents were getting impatient, calling the hire company up for a please explain? According to the hire company, their guy was on the road and meant to be turning up with the jumping castle soon.
Half an hour ticked by. Then another half hour. The birthday cake was brought out, Mum blew out the candles and speeches were made. Yet still no sign of the jumping castle. Eventually Mum called the company back and passed on a message, simply saying "Boy very upset"
As I heard her say this I cringed at her exaggerating for dramatic effect. I wasn't balling my eyes out. I wasn't sitting in a corner and sulking. There was cake to eat, a horse to ride, cousins and the family friends' kids to take for hot laps around the backyard in my old red Little Tykes wagon. But sure- I was as disappointed as any 9 year old kid would be when they get promised a jumping castle and then it never shows up…
To their credit, the hire company did the reasonable thing and (once it was clear today there'd be no bouncing) let us have the jumping castle for another day and refunded us. I could live with that.
So the alternate date was arranged, I invited my friends over and then come that day when I would- we all would- all get to jump around at last?
No sign of it. A call to the company again led to them calling the home of this guy who was meant to be delivering it. His wife apparently said he was at footy training and then meant to be dropping the jumping castle off. I don't know what happened after footy training, but that jumping castle never showed up. Strike 2…
After this point, the company boss spoke to Mum on the phone and said they'd now give us the jumping castle for an entire week. It would be delivered by somebody else, as they sacked the bloke who'd let us down twice now.
Looking back now, it almost feels like the premise for a depressing Simpsons episode: bloke still manages to fail at a job that allows him to be somewhat loose with punctuality= gets the sack. I wonder what the rest of that guys' backstory was? I probably wasn't the only person he'd let down because in my experience, if somebody is letting you down on small things then they're probably letting other people down on much bigger things as well…
But in the end, the jumping castle arrived- a giant inflatable giraffe, head popping up behind the roof of our house and wobbling around all week, visible from the end of our street. My friends, cousins and the neighbourhood kids all came around and yeah, it was cool being able to come home, go out to the backyard, turn the generator on and bounce around until you were exhausted!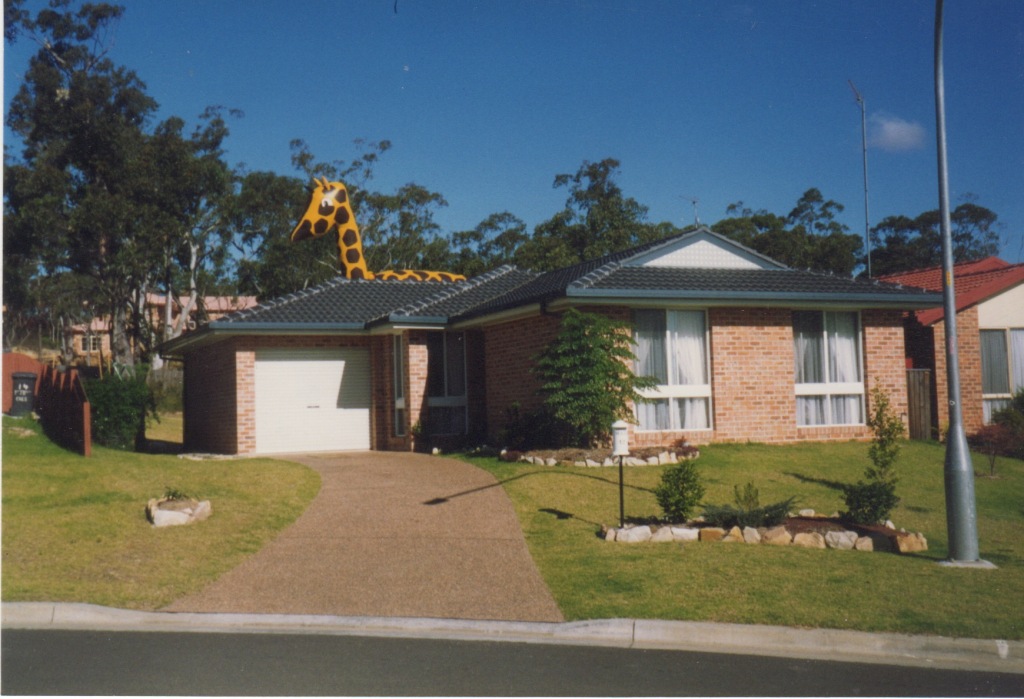 Whether it's waiting for a jumping castle to show up at your house, a flight to leave or a team member to submit their contribution for an important group assignment, being kept waiting is massively frustrating, isn't it? Because somebody else's incompetence or lack of care means you end up paying for it, whether you miss out on the fun, miss out on an important connection or miss an opportunity to achieve greatness.
And nobody wants to miss out like that, do they?
It's for this reason that here at Scribe Copywriting, we're committed to efficiency. So much so that it's one of our 5 Guarantees to every project we take on. I've edited brochure content, written client emails and turned them over in the space of 24 hours to help clients meet important deadlines. There's an added cost involved with tight deadlines like those, of course- but it pays to be punctual.
So whether you're in party hire, property development or providing an outstanding service people pay you top dollar for- you're assured that the copy you need is in your hands when you need it-
If punctuality is your prime objective, then contact us.