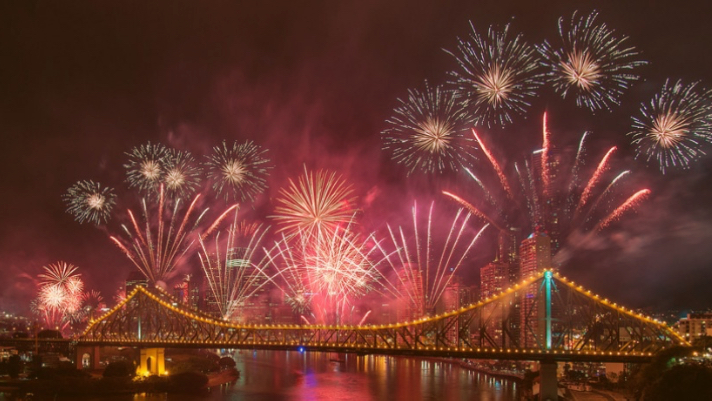 Come back with me- to a time not so long ago…
It's the final evening of 2010 and I'm standing on the apartment rooftop of a mates' friend, down near the Storey Bridge in Brisbane. All around me, New Years' Eve revelers wait for midnight to strike, for the fireworks to bang and shriek and crackle across the city skyline.
Amidst the laughter and chatter and the echoes of music around me, I look up at the starry night sky and think of where I stand, and the 12 months that have lead me to this moment in time…
I did 4 years at uni, put the work in, enjoyed the student lifestyle that's typical of your early 20's and graduated with my Bachelors' Degree. But now I find myself working full-time in a retail job where I put in the hours, do what's asked of me and get paid each week for doing so. Beyond that, I have no desire to move a single rung higher in the company. The hectic Christmas period has left me worn out, mentally drained and fed up- and I never want to hear young Michael Jackson's rendition of 'Frosty The Snowman' ever again for as long as I live. I worked until our store closed at 10pm tonight and arrived at this party late- but even so, less than 10 hours from now I'll be back there, doing an open for the people who want grog at 10am on New Years' Day. That's who I'm cutting my night short (and missing sleep) for the sake of…
But it's not just my job that I've grown weary of. I have plenty of friends and opportunities to go out every weekend, even most weeknights. Yet that happy, often drunken face in the group photos from this party or that gathering hides the real story. Truth is, I feel like an underachiever on a number of fronts, with little to show for all the potential I apparently have. Alcohol distracts me from this feeling and it numbs the anxiety- but I never really escape the situation. It's always just around the corner again when I sober up…
I went through a period in Winter where I'd be stirred from sleep hours earlier than normal, a knot in my gut and a weight in my chest. I'd lie there, wondering if things got better- or was this how the rest of my life would be- an underwhelming existence, just another case of "what might have been"? What if this was something I just had to get used to? Maybe this was the life I deserved? Maybe the only way to get out of this was by putting on an act and playing the part of someone else every waking hour? Because maybe the real me didn't have what it took to get where I wanted to be?
But standing here, looking across the Brisbane River at the office buildings and high-rise apartment blocks of the CBD, I've overcome the worst. The last few months- more or less the time since my birthday- has brought a few reminders that I am better than my circumstances, and neither am I too far off the path leading where I really want to go. Just a few small steps, in fact. So I've worked my way back, Christmas has come and gone and now here I am- waiting for midnight to strike, for this year to join every one before it and become history at last…
Soon enough, a few people begin counting down out loud:
10…
9…
8…
Straight away voices from everywhere join them by the second-
5…
4…
3…
2…
1…
The sky lights up. Fireworks boom and shriek, high above the riverside. I get this sensation as if I'm on the very edge of something. Like tuning a radio and through the static you think you hear a voice. I think back over the past 18 months of my life just gone. I recognise how far it's been from the life I really want, at heart.
Why should it be this way?
Whatever I have to do, whatever it takes these next 12 months to get where I want to be- I'll do it. I've had enough of life how it is, I'm done with this. No more… 
I think this to myself and make the decision right there, standing on the rooftop as people celebrate around me. I feel free and uninhibited. As if despite what came up until now, from here anything is doable. Suddenly, I feel like from this point, I can take any direction and achieve whatever I seek.
I still drove home in the early hours. I still got to the store at 9:30am to open. That part didn't change.
My life didn't transform into a highlights reel overnight- but in the 12 months that followed, steady, definite changes took place:
I quit my job and started a new one.
I got serious about starting a business where I utilised my writing skills.
I met new people and formed stronger bonds with those I already knew.
I moved house.
New ideas, realisations, and opportunities manifested into my life.
Since then, so much else has changed in addition to all that-
The state of my life
How content I am
What I stop to appreciate and recognise
The quality of my thoughts
How I spend my time and how I feel each day
And of course, taking the step to found this business and build it up from there
Like I said, it didn't all happen straight away, but the entire journey started that New Years' Eve in the middle of Summer, nearly 8 years back…
This is just one example of what manifests in life when you make a firm decision. In doing so, there's a weight behind it that has far more power and momentum than we might realise.
There are things we've dreamt of that can translate into reality with startling accuracy- things that once seemed like only fantasy can become so common-place in our lives that we nearly begin to take them for granted.
Opportunities, ideas, experiences, people, connections- all waiting somewhere down that line, on the other side of you making an absolute decision.
Whatever you dream of, whatever your heart goes out to- now is the time to answer that yearning, that desire that won't sleep.
As soon as you know what it is?
Make a decision.
Make a decision, so clear and absolute that you remember it. You won't believe the journey it takes you on…
Get every new article as soon as it drops