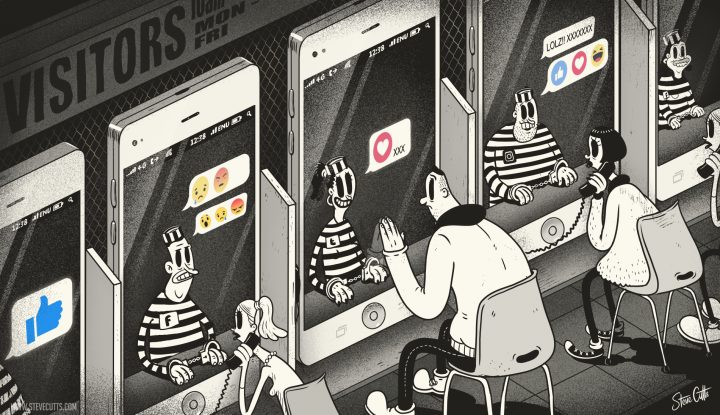 For the last few weeks, I've been doing something I never thought I'd do when I first opened for business…
I've been working a temp job for another company. Plain and simple reason was that in this gig (as I've said before) you can spend a lot of time working solo- and I was keen for a change up, keen to get out and work amongst a team for a while instead.
So I applied for a bunch of positions online, and here I am- for the moment.
Since I started, there's something I've especially noticed- not at the job itself, but on the daily commute-
It's just how many people are tuned out- engrossed in their screens, their music, unaware of anything or anybody around them. Life goes on, but they're a million miles away…
Now I'm not going to complain about the current state of society while wistfully reflecting on "the good old days", because I've seen enough of those photos from the 40's and 50's of commuters on the train, suited up in their work attire and engrossed in their daily newspapers. Technology and social standards might change, but basic human nature doesn't- good or bad.
But what strikes me about this- since doing the commute for this temp job- is just how easy it is to be "together alone". In public, but tuned into our private universe. In the crowd, but locked away with just our own voice going around in our heads…
I see this, and I wonder is it a surprise that so many people report feeling lonely? Because I'd thought about this long before I started working at my current posting- I thought about it last year when I read this article that (while not solely focused on loneliness) does a great job describing the effects of the daily grind and of being "together alone":
Corporate Man's Search For Meaning
We want friendship, we want love, we want connection, we want to feel noticed and appreciated- yet when in close proximity to people who want the same thing we do, we instead shut ourselves away. We go to work, we tune out on the way there, we tune out on the way back, we get home and order in and watch a few more hours of TV or browse cyberspace or play video games to unwind. Then we wash, rinse and repeat.
And we wonder what happened to our sense of community, of belonging?
I understand many of you have family at home and the responsibilities, time and energy those things require…
But still: don't cut yourself off. We weren't made to work for hours and hours with little meaningful interaction and then cut ourselves off in our down-time.
Because while we live in a golden age of material wealth, technological convenience and easy indulgence, I'd argue that we're running the risk of descending into an age of spiritual and relational poverty:
Is being able to access 5G anywhere and stream our favourite TV series, play our favourite game or set up a date for tonight on an app using the latest device an addition to our lives?
Or is it really an inferior compensation?
When was the last time we started a conversation with a stranger, maybe paid them a genuine compliment, read an actual book, went to the park, kicked the ball around with friends or went to an event centred around a particular professional/ sporting / spiritual/ lifestyle/ or recreational interest because "you never know who you might meet there?"
When was the last time we reflected on the fact that it's often not what you know but who you know- and instead of lamenting how it's an unfair advantage that benefits other people, that it also provides a fantastic opportunity that benefits us?
Neglecting a sense of community doesn't just impact how we interact with each other and sever our sense of connection- it negatively impacts how we work and our attitude-even towards those work pursuits that mean something to us.
So get along to your nearest business networking events- and join them. Join a social or sporting club. Organise to hang out with friends- even if it's just to catch up for a couple of hours on a weeknight. Community comes in all shapes, sizes and names- get involved and get connected.
And instead of tuning out to your phone screen or your music on the commute tomorrow, why not take a look around instead, and watch the world outside? It's funny what (and who) you notice…
[youtube https://www.youtube.com/watch?v=W_rC-495Z_A&w=806&h=453]
Don't miss a single new article- get it straight to your inbox